Despite being immensely popular with 332 million daily active users, Snapchat is a bit more unique than other popular social media platforms including Facebook and Instagram because rather than having a clearly laid out main page, you really only get two or three screens to swipe between.
For many people, this isn't a huge problem and simply makes the app that much easier to use, however it can make things a little difficult when you want to go deeper into the settings and use some of its more hidden features.
So where does this leave polls? Can they be used on Snapchat, and if so how exactly do you create one? Here is everything you need to know about using polls on Snapchat.
Can You Create A Poll On Snapchat?
While it may be a little hidden away behind a few screens and icons, Snapchat does allow its users to create a poll on the platform.
Once you know how to do this, setting up and using a poll to acquire data is quite easy and is more than worth doing considering many of us will have most of our contacts on the app.
Just like other features such as the video calls and timeline mode, the option to create a poll is more of a hidden feature, however, since you can put it on your story, it can reach everyone on your friends list all at once giving you a wide variety of participants and answers.
How To Create A Poll On Snapchat
When you set up a poll on Snapchat, it will appear on your story for everyone to see which makes it incredibly useful when you want to get as many responses as possible in a quick and easy way.
Here is how you can set up a poll when you load up the Snapchat app (You might also want to check out How To Make A Poll On Discord).
Step 1: Take A Photo
You will first need to take a picture when you arrive on the main screen of Snapchat. Don't worry, this doesn't need to be anything fancy or too eye-catching, it will just be the image used in the background when you upload the poll.
Step 2: Tap On The Sticker Icon
Once you have taken a photo, you will be directed to the editing screen. Look for the 'Sticker' icon on the right hand side of this screen, it should be the third option from the top with a slightly folded icon, tap on this.
Step 3: Tap On 'Poll'
You will then be shown a menu where you can add a few features to the photo including your location or any mentions of other users. Near the top next to 'Topic' will be the 'Poll' option, tap on this to begin setting up your very own poll (You might also want to check out How To Make A Poll On YouTube).
Step 4: Enter A Question Or Topic
You will now be asked to type in your question or query along with two emoji icons just under it. Type in your question, and feel free to change the emojis to any ones that you think suit the topic the best.
By default, the emojis are automatically set to a thumbs up and thumbs down and while this can be an easy way for participants to answer, you can edit this to suit your preference if you wish to.
Step 5: Post Onto Your story
Once your poll is set up and ready to go, tap the 'Send To' icon near the bottom right corner and then choose 'My Story'.
How To View The Results
We inevitably will want to see the results of the poll once it has been up for a few hours or days, and luckily this can also be done very easily and quickly.
Step 1: Tap On Avatar
Start by loading up Snapchat and tapping on the avatar or bitmoji icon in the top left corner. Once you have uploaded a story, tapping this will automatically take you to that post so that you can preview it as long as it is still active.
Step 2: Tap On Ellipsis
There will be a three dot ellipsis at the top right corner of the story, tap on this and then select the poll's name which will appear near the bottom.
Step 3: Analyze Results
You will now be able to see the results of your poll for you to dissect and analyze.
You can also share these results if you want to simply by tapping the 'Send Results' button and sending it to as many friends on the app as you want in the form of a private story.
Extra Tips When Creating A Snapchat Poll
There are a few ways you can really make a poll on your Snapchat story stand out as much as possible, and one of these is to take a background picture that fits with your poll topic such as the object you're debating on purchasing.
Additionally, if you can try and make the question as short as it can be, Snapchat users are used to quickly swiping between multiple screens in a short amount of time so it can always be worth making the question as snappy and to the point as possible.
Finally, when setting up a poll, you can set it so the participants either see the results straight away or after they vote.
Set it so they can only see after they vote to encourage people to vote themselves rather than just clicking on your story to see the data for themselves.
Frequently asked questions
Is Creating A Snapchat Poll The Same On iOS And Android Devices?
The good news is that whether you're using an iOS or Android mobile device, creating a poll works exactly the same as all the symbols, icons and menus for Snapchat are identical for both.
Summary
Once you know how, creating a poll on Snapchat is quick, easy and well worth doing when you need a good batch of opinions or data since there are so many active users on Snapchat with it being one of the most popular social media apps around today.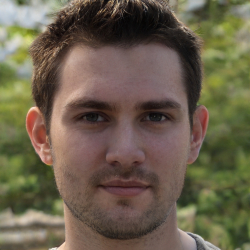 Latest posts by James Pithering
(see all)