Slack is primarily used by businesses to communicate successfully with their employees. For any reason, you might want to make a poll to interact with your colleagues. But how can you create a poll in Slack? The good news is that there are different ways to do that.
Utilizing emojis and apps like Polly and Simple Poll, you can easily make a poll to gauge how your employees feel about your question. Just follow our step-by-step guides to find out how you can easily set these polls up.
Emoji Polls
If you don't want to install an app, you can always gauge how your colleagues or employees feel using emojis. It's an easy way to gauge how they're feeling, and it's easy to observe the results. Within minutes, your poll can be set up. But how?
Select The Channel
First, you will need to decide which channel should host the poll. The channel you use should be a channel where everyone who needs to see it can and should also be relevant.
You don't want to put it on a channel where the intended audience won't see it.
Type In Your Question
Type your question into the dialogue box where you would normally type a message. The question can be anything you want. For example, it could be something like "How do you feel today?" or "When do you work best?"
Summarize Your Emojis
Once you've asked your question, don't send it straight away. Instead, hold the 'Shift' key and the 'Enter' key together to drop down to the next line. Once you do that, select the emojis for your answer.
These can be anything, from smiley faces or a sunrise or sunset if you want to know when your colleagues work best. Make sure you explain what each emoji means.
Hit Send And Wait For Your Results
Once you've explained what each emoji means for each answer, just hit the send option. You'll then see each emoji appear below your message. A number will appear next to each emoji, so you'll be able to monitor your results easily.
Using The Simple Poll App
Simple Poll is an app that's designed specifically for Slack (You might also want to check out How To Make A Poll On Discord). It makes the process of making a poll easier and more accessible than the Emoji Poll. You can either choose from a template or create a poll from scratch.
Select Simple Poll In The Apps On Slack
When you enter Slack, you need to go to the left-hand side of your screen. You should see a 'More' button, where you'll have access to a drop-down menu.
Click on the 'Apps' button here. You'll be led to the available apps, and you can access 'Simple Poll' from here.
Choose What Poll You Want To Use
You can either 'Create a poll' or pick from a template. Depending on the poll type you want, you can either click on 'Create this poll' from the template selection or 'Create a poll' near the top.
Create Your Poll
Once you've selected your poll, hit the 'Create this poll' button. You can edit the template question and each answer option.
Depending on how you want the poll to run, you can choose to make the answer anonymous, whether there should be additional options, or limit the number of votes for each user.
You can even schedule the poll for later if you have one that is time-sensitive. Once you've done it, you can select the channel to which you want to post it.
Preview Your Poll
Once you've selected your options and customized your settings, you can preview your poll. If you're happy with it, you can decide whether to create the poll or not.
If you aren't happy with it, select the 'Back' button to go back to the edit window. If you're happy with it, then you can 'Create Poll'.
Wait For The Results
Once you've posted the results, you can see how your poll results are faring. Each team member can vote via the button on the right-hand side of the answer.
Once someone has clicked on an option, a tick mark will appear underneath that option. You'll then see how many people have voted for each next to it too.
Editing A Live Poll
Once your poll is live, you can edit it by selecting the three dots at the top right of your poll. Editing your poll is easy to do, and on this button, you can decide whether you want to close it, delete it, or make a new one.
You can also choose the 'Manage Poll' button to adjust the settings or even have it sent to you in a CSV file.
Simple Poll is free to use for the first 100 responses, which can benefit small businesses. However, if you have a larger company, you may have to pay for it. You can check the pricing plans online to see which works best for you.
What Other Poll Apps Are There?
Slack has quite a few poll apps that are just as easy to set up. Along with Simple Poll, you can use Polly, Poll App, or even Poll Everywhere.
These can all be accessed similarly to Simple Poll but may have slightly different settings for each. All of these poll apps come with different price plans, so you should check which one is the most viable for you and your business.
Final Thoughts
Making a poll in Slack is easy to do and can be a great way to gauge how well your business is doing. You can monitor employee satisfaction or just have random polls to lighten the work day.
Regardless of your reasons, you'll find that polls are a great way to interact with your team. 
If you want to make a poll, I hope this advice helps you. If you want to know more about how to set up polls on different platforms, then check out some of our other articles.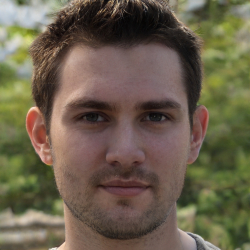 Latest posts by James Pithering
(see all)