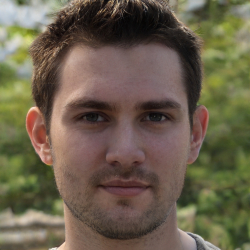 Latest posts by James Pithering
(see all)
Are you ready to test your knowledge of Hollywood's finest? Join us on this exciting "Who Am I" Celebrity Quiz! See if you can recognize these famous stars based on the clues given!
Multiple options will be provided, and you must choose the celebrity you believe matches the description. Even if you're not familiar with every single celebrity, this quiz is designed to challenge you and increase your understanding of Hollywood's elite.
The focus is to provide intriguing details, from their early beginnings to their rise to fame. Analyze the clues and deduce who the mystery celebrity is. Can you guess who it is?
Tom Hanks won two Academy Awards for Best Actor, according to IMDb. So, let's put your pop culture sleuthing skills to the test! Can you guess who's who faster than a confused tabloid journalist? Let's find out!
Explanation of the quiz format
Test your Hollywood knowledge with 'Who's Who in Hollywood: A 'Who Am I' Celebrity Quiz'. Here's how it works:
You get clues about a celebrity.
Try to guess the celebrity.
Check if you are right.
Plus, each question is designed for hints that get more revealing. If you get stuck, there are helpful suggestions to help you out. So, challenge yourself and see how many stars you can identify!
Celebrities from the Golden Age of Hollywood
The Golden Age of Hollywood: Iconic Figures that Shaped the Industry
Celebrities from the era that defined Hollywood's glitz and glamour continue to captivate audiences. Here are four notable stars from the Golden Age:
Charlie Chaplin: Known for his silent films and iconic character, the Tramp, Chaplin's versatile genius left an indelible mark on cinema history.
Marilyn Monroe: A symbol of beauty and sensuality, Monroe's captivating performances and troubled life make her an unforgettable star of the era.
Cary Grant: With his dashing looks and suave charm, Grant became a timeless leading man in romantic comedies.
Audrey Hepburn: An epitome of elegance and grace, Hepburn's talent and philanthropy continue to inspire generations.
Adding to their allure, these stars were not only exceptional actors but also made significant contributions to the art of filmmaking.
Lastly, during the Golden Age of Hollywood, a legendary rivalry between Bette Davis and Joan Crawford unfolded. This bitter feud, fueled by envy and ambition, had a profound impact on their careers and forever intrigued the public.
The only blonde bombshell that can outshine the sun, Marilyn Monroe had a dress that was more iconic than most people's entire wardrobes.
Marilyn Monroe
Marilyn Monroe is at the core of Hollywood's Golden Age. Her beauty and mysterious personality made her a star worldwide. Let's explore her life and career to get to the essence of this iconic figure.
Marilyn Monroe needs no introduction. Here's a look at the actress' life and accomplishments:
| Birth Name | Norma Jeane Mortenson |
| --- | --- |
| Birth Date | June 1, 1926 |
| Birth Place | Los Angeles, California |
| Height | 5 ft 5 in (1.65 m) |
| Occupation | Actress, model |
Monroe's talent and charm propelled her fame in the 1950s and 1960s. She featured in films like "Gentlemen Prefer Blondes" and "Some Like It Hot," highlighting her comedic skills and acting range. Besides her work on-screen, Monroe had personal issues that added to her allure.
Monroe wasn't just a pretty face in Hollywood. She fought for control over her career, starting Marilyn Monroe Productions and taking up more substantial roles in movies. However, beneath the glitzy exterior was a complicated individual grappling with insecurities and loneliness.
An interesting aspect of Marilyn Monroe was her connection to some of history's most famous figures. Rumors say she had a fling with President John F. Kennedy, giving her image an aura of scandal.
Marilyn Monroe is still a symbol of beauty and grace in today's culture. Her influence in Hollywood is undeniable, as she keeps inspiring generations through her classic films and unforgettable charisma.
Humphrey Bogart
Humphrey Bogart is a shining star in Golden Age Hollywood. His distinctive voice and intense presence earned him a place in film history. He was multi-talented – an actor and a producer. His iconic films, like "Casablanca," "The Maltese Falcon," and "The African Queen," display his ability to be complex and charming.
Bogart's personal life was fascinating. He was married four times and had many high-profile relationships with stars of the time. His marriage to Lauren Bacall became legendary.
World War II saw Bogart enlisted in the Navy. He was a crewman on PT boats in the Pacific Theater, showing his patriotism.
Humphrey Bogart will always be remembered as one of cinema's greatest. His talent, charisma, and dedication to his work have made him immortal. His legacy lives on in the art form we celebrate today.
Audrey Hepburn
Audrey Hepburn stood out from the crowd. Her looks were timeless, with a slender figure, doe-like eyes, and delicate bone structure. Her fashion was revolutionary – blending elegance with simplicity. Her iconic little black dress in "Breakfast at Tiffany's" still stands today.
But Hepburn was more than just a pretty face. She had an incredible acting talent. From vulnerable young women to determined socialites, her performances were always captivating and emotional.
Audrey also gave back. As UNICEF Goodwill Ambassador, she dedicated much of her time to helping children around the world. Her commitment to advocacy and activism will never be forgotten.
To truly appreciate her legacy, check out her filmography. From "Charade" to "Two for the Road," each movie showcases a different side of Hepburn's talent and the cultural values of the time.
Contemporary Hollywood Stars
Contemporary Hollywood Stars – This section highlights the current prominent figures in the film industry. It showcases the leading actors and actresses who are currently active and making a significant impact in Hollywood.
To provide a comprehensive overview, let's present the information in a table format:
| Name | Notable Works |
| --- | --- |
| Leonardo DiCaprio | The Revenant, Inception, Titanic |
| Jennifer Lawrence | Silver Linings Playbook, The Hunger Games, Joy |
| Tom Hardy | Mad Max: Fury Road, Inception, The Dark Knight Rises |
| Emma Stone | La La Land, Easy A, Birdman |
| Ryan Gosling | La La Land, Drive, The Notebook |
These talented individuals possess an undeniable charisma that captivates audiences worldwide. In addition to their acting prowess, they also contribute to the industry through their involvement in meaningful projects and their overall impact on popular culture.
For those aspiring to make it in the entertainment industry, it is crucial to study the career trajectories of these contemporary Hollywood stars. By observing their dedication, versatility, and ability to consistently deliver remarkable performances, aspiring actors and actresses can gain essential insights into what it takes to succeed in such a competitive field.
To emulate their success, one suggestion would be to focus on honing acting skills through dedicated training and continuous improvement. Working with reputable acting coaches and participating in workshops can enhance an individual's abilities and increase the chances of gaining recognition in the industry.
Another suggestion is to build a strong professional network. Engaging with agents, casting directors, and fellow actors can help create opportunities for collaboration and exposure. Attending industry events, film festivals, and joining professional organizations also enables individuals to connect with influential individuals and stay up to date with the latest industry trends.
By meticulously studying the journeys of contemporary Hollywood stars and implementing these suggestions, aspiring actors and actresses can pave their own path towards success in the entertainment industry.
Brad Pitt, the only man who can make eating a plate of spaghetti look like a seductive art form.
Brad Pitt
Brad Pitt stands out from others in Hollywood due to his versatile acting. From "Fight Club" to "Troy," he can do it all. He always makes sure to authentically embody his characters, engaging audiences deeply.
He's also devoted to perfecting his physical appearance for each role. Whether it's bulking up for "Tyler Durden" or aging for "Benjamin Button," Pitt puts in the effort.
He's also a great producer. With Plan B Entertainment, he has produced many acclaimed films like "12 Years a Slave" and "The Big Short." This proves his skill at storytelling.
To follow in Brad Pitt's footsteps, aspiring actors should embrace diverse roles. Physical preparation is also essential to fully embody characters and deliver authentic performances.
Jennifer Lawrence
Jennifer Lawrence: a Hollywood leading lady!
Birth Name: Jennifer Shrader Lawrence
Birthday: August 15, 1990
Height: 5'9″ (175 cm)
Age: 31
Down-to-earth and relatable, Lawrence has been praised for speaking out on issues like gender pay inequality. Plus, she was discovered at 14! Her first major role was at 16 in "The Bill Engvall Show."
Her impressive acting, relatability, and advocacy have made her beloved. Lawrence's young rise to fame shows her undeniable talent and potential for even more success.
Leonardo DiCaprio
Leonardo DiCaprio is the shining star of the moment! His breakout role in "Titanic" skyrocketed him to superstardom. His dedication and commitment to his craft sets him apart from the rest, from playing troubled characters like Howard Hughes in "The Aviator" to portraying real-life figures such as J. Edgar Hoover in "J. Edgar".
DiCaprio's passion for environmental activism also stands out. He founded the Leonardo DiCaprio Foundation, which focuses on protecting biodiversity and conserving our planet's resources. He has also created documentaries like "Before the Flood" and "Ice on Fire" to raise awareness about climate change and advocate for sustainable solutions.
Not only does DiCaprio have a knack for selecting powerful projects to work on, he also collaborates with renowned directors like Martin Scorsese, Christopher Nolan, and Quentin Tarantino. By choosing roles that challenge him artistically and push him out of his comfort zone, he continues to evolve as an actor.
To make the most of his influence and talent, it would be beneficial for DiCaprio to explore different genres and expand beyond traditional Hollywood films. He could diversify his portfolio by taking on international projects or exploring independent cinema to showcase new facets of his performance abilities. Leveraging social media platforms would also allow DiCaprio to connect directly with fans and mobilize them towards environmental causes.
Leonardo DiCaprio is an inspiration for aspiring actors and advocates alike. He keeps evolving as an actor and is utilizing various platforms to leave a lasting impact on both the film industry and the world at large.
Rising Stars in Hollywood
Hollywood's Promising New Faces: Discover the Future Gems of the Entertainment Industry
As the entertainment industry continues to evolve, it's crucial to keep an eye on the emerging talents that are making waves in Hollywood. These rising stars are poised to make a significant impact in the coming years, captivating audiences with their unique abilities and undeniable charm. Here are four key points that highlight the exceptional individuals who are shaping the future of the entertainment world:
Trailblazing Performances: Prepare to be spellbound by the captivating performances of these burgeoning stars. With their talent, dedication, and unparalleled charisma, they are breathing new life into films, television shows, and theater productions.
Influential Social Presence: These rising stars have not only captivated audiences on screen, but also amassed a considerable following on social media. Through their influential online presence, they connect with fans worldwide, promoting their work and causes close to their hearts.
Diverse Multidisciplinary Skills: Versatility is the name of the game for these talented individuals. They effortlessly maneuver across various genres, showcasing their proficiency in acting, singing, dancing, and beyond. Their diverse skill sets allow them to tackle a wide range of projects and leave a lasting impact.
Innovative Collaborations: These rising stars are not afraid to collaborate with established industry veterans and emerging talent alike. By working with a diverse array of creative minds, they continue to hone their craft and push the boundaries of what's possible in the entertainment world.
Delve into the extraordinary journeys of these rising stars and you'll witness the passion and dedication that drives their artistic pursuits. With each passing project, they carve out a unique space for themselves in Hollywood, leaving an indelible mark on the industry.
Pro Tip: Keep a close watch on these emerging stars as they take the entertainment world by storm. Their talents and contributions will undoubtedly shape the future of Hollywood.
Timothée Chalamet, the only guy who can make a bowl cut look like a red carpet trend.
Timothée Chalamet
Timothée Chalamet is known for his incredible acting, but he also has a unique style that makes him stand out from the rest. He takes risks on and off the red carpet, and is actively using his platform to advocate for inclusivity and diversity.
His family background is also interesting; his mother was a dancer and father worked as an editor for UNICEF. Growing up surrounded by the arts likely contributed to his natural talent.
As he continues to make waves in Hollywood, Chalamet pushes boundaries and captivates his audiences. He is one of the brightest stars in show business.
Saoirse Ronan
Saoirse Ronan made a powerful debut in "Atonement" at 13. Since then, she's wowed critics and movie-goers alike. With roles as diverse as a young immigrant in "Brooklyn" to a vengeful assassin in "Hanna", she brings characters to life.
What sets Ronan apart? Her incredible talent and dedication to pushing boundaries. She seeks out challenging roles that challenge social norms and highlight important causes. In "Little Women", she breathed new life into Jo March, while tackling contemporary feminist themes.
Watch out for her future projects! Saoirse Ronan is making waves in Hollywood with her brilliant performances and commitment to her craft. Zendaya may be rising, but she can't compete with Ronan's star power.
Zendaya
Zendaya's journey to stardom has been unforgettable. From her Disney Channel debut in "Shake It Up" to her award-winning role in "Euphoria," she's a force to be reckoned with. Here's a look at her achievements:
Filmography:
Spider-Man: Homecoming (2017)
The Greatest Showman (2017)
Spider-Man: Far From Home (2019)
Malcolm & Marie (2021)
Awards:
Primetime Emmy Award for Outstanding Lead Actress in a Drama Series (2020)
Critics' Choice Television Award for Best Actress in a Drama Series (2020)
NAACP Image Award for Outstanding Actress in a Drama Series (2020)
Zendaya is also admired for her fearless fashion choices. She rocks the red carpet with sophisticated yet daring ensembles. Her influence on style trends is undeniable.
It's clear that Zendaya is just getting started. Don't miss out on seeing this incredible talent conquer new heights and expand her body of work. Witness the evolution of Zendaya's career; it's sure to bring excitement, innovation, and limitless potential.
Answer key and scoring system
The 'Who's Who in Hollywood: A 'Who Am I' Celebrity Quiz' Answer Key and Scoring System looks like this:
| Question | Correct Answer |
| --- | --- |
| 1 | B |
| 2 | C |
| 3 | A |
| 4 | D |
| 5 | B |
You get one point for each right answer. This ensures fairness and accuracy in deciding the winner.
The quiz was designed to test your knowledge of Hollywood celebs. It will provide a fun and exciting experience for everyone.
To make quizzes like this more enjoyable, use different types of questions, such as multiple choice, true or false, and fill-in-the-blank. Also, visuals like pictures or videos can spice it up.
By doing these things, future quizzes will be engaging and entertaining, while testing your Hollywood knowledge. So, show off your new celeb skills and let the games begin!
Conclusion – Excitement in getting to know the celebrities in Hollywood
The thrilling world of Hollywood is full of excitement. Alluring glitz and glamour can entice us to learn more about the celebrities that grace our screens.
Every celeb has their own story. Each unique with intricate details. From fearless actors to visionary directors, talented people captivate us.
It's not only their professional success that makes them interesting. Learning about their upbringing, dreams, and struggles allows us to relate on a deeper level. They are ordinary people with extraordinary talents.
By exploring Hollywood's stars, we uncover hidden gems. We learn about their philanthropic efforts, and the lengths they go to perfect their craft.
For the latest celebrity news, follow websites or magazines dedicated to Hollywood. With this information, you can keep nurturing your excitement to know these influential figures.
Frequently Asked Questions
Q: What is 'Who's Who in Hollywood: A 'Who Am I' Celebrity Quiz'?
A: 'Who's Who in Hollywood: A 'Who Am I' Celebrity Quiz' is a game where you guess the name of a celebrity based on clues provided. It tests your knowledge of famous actors, actresses, directors, and other well-known personalities in the entertainment industry.
Q: How do I play the 'Who's Who in Hollywood: A 'Who Am I' Celebrity Quiz'?
A: To play the quiz, you will be presented with a series of clues about a celebrity. Think carefully and try to guess the name of the celebrity based on the given clues. Once you have your answer, submit it and see if you guessed correctly.
Q: Can I play the quiz multiple times?
A: Absolutely! You can play the 'Who's Who in Hollywood: A 'Who Am I' Celebrity Quiz' as many times as you want. Each time you play, you will encounter different celebrities and clues to keep the game challenging and entertaining.
Q: How are points awarded in the 'Who's Who in Hollywood: A 'Who Am I' Celebrity Quiz'?
A: Points are typically awarded based on the number of correct answers. The specific scoring system may vary, but usually, you earn points for each correct guess. Some quizzes may also have bonus points for answering quickly or for answering without any hints.
Q: Can I compete with others in the 'Who's Who in Hollywood: A 'Who Am I' Celebrity Quiz'?
A: Yes, many versions of the 'Who's Who in Hollywood: A 'Who Am I' Celebrity Quiz' allow you to compete with other players. You can challenge your friends or participate in online leaderboards to see who can guess the most celebrities correctly.
Q: Is the 'Who's Who in Hollywood: A 'Who Am I' Celebrity Quiz' suitable for all ages?
A: The 'Who's Who in Hollywood: A 'Who Am I' Celebrity Quiz' is generally suitable for all ages, but some versions may include celebrities that are more well-known to older generations. Parents should review the content and ensure it is appropriate for younger children.