MisterPoll.com is now part of ThePollsters.com
The beloved MisterPoll.com site is now part of ThePollsters.com.
Mister Poll: Make Your Own FREE Online Polls was originally created way back in 1998. At the time, it was a novel and easy way for people to create and share polls of all varieties. Since then, hundreds of thousands of polls and surveys have been created and shared across the Internet.
But, having been created in the nineties, the site was well due for an overhaul. So we've relaunched as ThePollsters.com. And with this update, not only can you easily create and share polls, but you can find helpful information on polls, surveys, statistics, helpful articles, and resources, and participate in The Pollsters Forum.
Similarly, ThePollsters.com used to be the companion website to The Pollsters Podcast by the bi-partisan team of Democrat Margie Omero and Republican Kristen Soltis Anderson.. That podcast hasn't been produced in a while but you can listen to the old episodes here.
Make A Poll
Polls are simple tools to measure people's opinions on a topic. ThePollsters allows users to easily create and share polls. To create a poll, click the green Make A Poll button. If you haven't created an account, you will be prompted to do so. It's easy and will take only a moment.
When crafting your poll, the question should be in the title. You can also elaborate on it in the post body.
After you've created your poll, share it so others can participate! Click on the share icon in order to invite others to participate. You can share your poll via Email, Reddit, Twitter, Pinterest, or Facebook.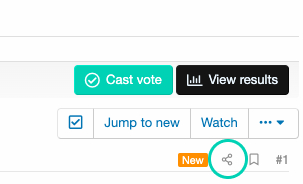 Forums
And, as with MisterPoll.com, ThePollsters.com comes with its own community. Here you can join other like-minded folks to discuss topics and issues across a wide range of categories.
Community Guidelines
Be sure to review the community guidelines before you get started here. The Pollsters.com Community is a family-friendly environment and we do not allow our content to contain nudity, sexual or violent imagery or even humour that has been deemed inappropriate – so please be respectful.
If your post is advocating for serious hate speech, racism or other intolerant attitudes against minorities and the LGBTQ+ community it will be deleted. You can also get banned if you post something especially disrespectful or hateful.
Do not personally attack other users or make inflammatory comments against them.
Not following the guidelines may result in threads being removed or users being banned.
Polls, Surveys and Statistics
Our love of statistics and numbers is a big reason we launched this website. For that reason, another great aspect to ThePollsters.com is the range of articles and resources on topics like statistics, surveys, polls, and more.
If statistics is your thing, you'll find great articles like What Is Qualitative Data, What Is An Outlier, What Is A Confounding Variable, with new articles and topics uploaded regularly.
We're excited to take MisterPoll to the next level with The Pollsters. We think you'll love the new, contemporary environment and all the great new features.
Plus, be sure to check out the monthly contests where you will have a chance to win great prizes!
Still a fan of the old misterpoll.com? The original MisterPoll.com remains accessible at original.misterpoll.com for when you fancy a touch of familiarity.
– James Pithering